Ioannis focuses on concession projects, project finance transactions, commercial arbitration and litigation, as well as contract negotiation. He regularly advises concessionaires and constructors on every aspect of concession and construction projects. Moreover, he advises Banks and corporations on financing transactions, particularly asset backed lending transactions, derivatives and repo agreements.
 
EDUCATION & PROFESSIONAL QUALIFICATIONS
Education
University of Athens (LL.M. in Civil Law, 2006)
University of Athens, School of Law (LL.B., 2003)

Languages
Greek (Native)
English (Full proficiency)
German (Full Proficiency)
French (Full Proficiency)
 
Bar membership
Member of the Athens Bar Association. Qualified to appear before all Courts of all degrees, including the Supreme Courts.
RECENT WORK
Advised Alpha Bank S.A. on matters of Greek Law on the successful issuance of a landmark Euro 500 million Tier 2 subordinated bond. The issuance optimises the Bank's capital structure and is a key milestone in the implementation of the Bank's strategic plan. The Tier 2 bond, listed on the Luxembourg Stock Exchange, has a 10-year maturity callable after 5 years at a yield of 4.25%. 

The transaction was completed in February 2020.
Other noteable work:
Advice to and representation before arbitral tribunals and Greek Courts of the Concessionaire of a Toll Road €1bn Concession (from the bidding stage until today);
Advice to and support in the context of arbitration proceedings to the preferred bidder with respect to the concession of the management, operation and maintenance of regional airports;
Advice to a shareholder of the Concessionaire of the planned new international airport in Heraklion, Crete;
Advice to a major Greek Bank as hedging bank in the context of Mall development projects, energy projects and PPPs in Greece and abroad;
Representing a French energy company in an ICC Arbitration against a major Greek company with respect to contract price escalation.
RECOGNITIONS & AWARDS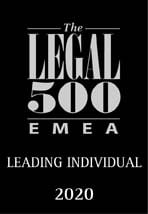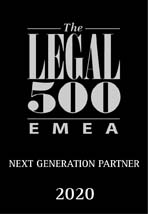 PUBLICATIONS & EVENTS
Contributor of the analysis of articles 402-409 of the Greek Civil Code on earnest and penalty clause in the commentary of Professor Ioannis Karakostas, Civil Code, Law of Obligations, General Part, Athens 2006.
 Co-contributor of the chapter on Greek Port Regulations in the Greek Law Digest (2016). 
Co-contributor to the project of the World Bank "Enabling the Business of Agriculture 2017".